Send us your eye photos and we can assess your health!
We conduct Iridology consultations via Skype, Email and Phone.
Click HERE to learn how!
I need to provide you with larger eye pictures.
Iridology is simple, yet precise! The eye connects to every single part of the body by way of the brain and nervous system. It is the map of the body.
Iridology is the science of analyzing of the eye to determine what is happening deep within the whole body from an external view. The eyes are likened to miniature television screens recording the condition of the various organs and tissues throughout the body. You can experience an instant and accurate analysis of your health situation on your first visit. On follow up visits, the Iridologist will be able to see what degree of positive changes has occurred in the iris by healing lines and colour changes.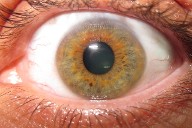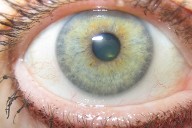 The eye should resemble the material of silk. In the two examples here, the blue eye has (silky) material which is positive. The other eye, the material is wavy and there is a prominent orange colouration which indicates health challenges.
"Iridology helps us to obtain our maximum health level. It brings an awareness of how to prevent disease. It helps us to understand our weaknesses, so we can try to strengthen them for future generations." (Dr. Bernard Jensen, Iridology Simplified)


INSPIRING TESTIMONIALS


Constant Coughing for 13 years
I was suffering with coughing spells lasting up to 10 minutes many times a day. My doctor gave me many different drugs, sent me for tests but they had no answers for me. I was so desperate; it affected my whole life. With my first Iridology exam, Betsy told me that there was no weakness in the lung area, the root cause was severe congestion in the colon.  She was right, I had a bowel movement only every 8-10 days.  Within two weeks of following Betsy's herbal suggestions, I was astonished, I had 3-4 bowel movements a day and my cough was almost gone!  Bless you Betsy.
Guia P.
Headaches
I have been a migraine patient for the last six years. The pain in my head was so strong it upset my whole body with dizziness, nervousness, depression etc. I consulted several doctors but they had no cure for migraines. God has been gracious to me; he led me to Betsy.  I never told her why I was there but soon after analyzing my eyes, she told me what was wrong.  I was amazed at how precise the Iridology exam is!  She gave me a strong herbal program and in a matter of weeks I felt 70% better. I was so impressed and inspired that I studied with Betsy and I too became an Iridologist!
Domenica G.
I Can Sleep!
12 years ago I was involved in a serious car accident. For 6 months I had the best care from different health fields. Nothing helped, I had to give up work completely. I couldn't fall asleep for hours; when I did sleep it was only for an hour, sometimes minutes. I was referred to Betsy and although skeptical, I was impressed by her professionalism, charisma and knowledge of the problems of the human body. She assessed my condition and was very accurate regarding my parental medical history, it was amazing! How can someone know that much information without prior knowledge by just assessing my eye? Betsy assigned a rigid nutritional & herbal program. Within 2 weeks she was amazed at the difference in the eyes and I felt much better. I had more energy, was sleeping better and felt like I was pre-accident; back to my former self, laughing and joking. After 7 weeks; I am able to sleep 8 hours without interruption, something I have not done in 12 years. Also I have an abundance of energy and I am back to work almost full time as a professional boat restorer/builder. Thank you Betsy I owe you, what more can I say.
Ian M.
Contact us to request more information about our quality Iridology techniques.